About Grand Master Dennis Brown
On August 13th, 2007, at a simple tea ceremony rarely held in public, 67-year-old Grandmaster Willy Lin passed along "the robe and bowl" of t'ien shan p'ai to his disciple of over 40 years, Washington, D.C. kung-fu pioneer Master Dennis Brown.
Grand Master Brown - 80's weapons star, trainer of champions and promoter of his own long-running U.S. Capitol Classics tournament - is now officially the yiban, or heir apparent, to the world-famous fighting system, which originated in the T'ien Shan mountains of northwestern China.
A member of half-a-dozen Halls of Fame, Grand Master Brown was cited at the turn of the century in Black Belt magazine as one of the "25 Most Influential Martial Artists of the 20th Century." Today Dennis Brown stands as a living legend of the original United States generation to discover it was possible for an American to have a destiny in the martial arts.
Chinatown insiders recall the youthful Dennis Brown as a fighter of closed-door matches in New York and Washington, including one famous bout in which he bested a full-contact hero who later retired unbeaten from the public circuit. As a weapons forms competitor, Dennis Brown won national grand championships for his staff work and sword forms; and he redesigned and revolutionized the rope dart, of which he remains one of the few living experts.
Grand Master Brown has continuously developed all his skills through an ongoing lifelong study of the fighting forms, traditional weapons and training resources of classic external and internal wushu. In 1982, he became the first African American to train in Mainland China. He has returned there to do advanced studies in every decade since then.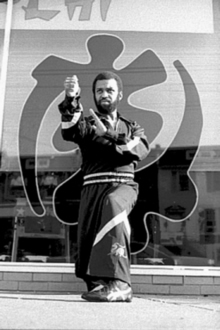 In 1982, when he first arrived in China, Grand Master Brown had already founded the U.S. Capitol Classics (so-named because there already existed an event called the Capital Classic, spelled with an "a'). The 21st century U.S. Capitol Classics has evolved into one of the country's most famous and glamorous venues. It has been said by martial arts historians that, over the years, the greatest champions of the last quarter-century have given some of their most memorable performances at the Classic.
Grand Master Brown's pioneering has also extended to broadcasting. In the Washington area, he is fondly remembered for a six year run as "The Morning Sound" Exercise Consultant on WHUR radio. And, for three years in the late '90s, beginning on ESPN, the Grand Master co-hosted "Black Belts," a weekly half-hour TV show which covered the grand championship showdowns at major national tournaments.
Currently, Dennis Brown stays hands-on busy running three successful Shaolin Wu-Shu Training Centers in the greater metropolitan area. Popular respect and deep affection for the Master have spread globally. His life story traces a martial hero's inspirational rise from family poverty to the summit of old-school traditional kung-fu.
Grand Master Dennis Brown's one life/one style integrity singles him out. And in his unforced modesty, deep learning and positive attitude, a new generation is discovering that, even in the postmodern world, the classic Way of the Chinese Warrior matters more than ever.